Duo Plus 9-in-1 Multi-Functional Smart Cooker with Yogurt Maker Cups (6 QT/5.7 L)
In stock
You Saved: $10.00
The best-selling Instant Pot Duo™ multicooker not only replaces 7 appliances, but it also speeds up cooking by 2-6 times and saves up to 70% of the energy used in traditional cooking methods. The Duo line features a solid range of Smart Programs and features that will revolutionize the way you cook.
The Instant Pot Duo 7-in-1 comes with 14 standard one-touch Smart Programs — Soup/Broth, Meat/Stew, Bean/Chili, Slow Cook, Sauté, Rice, Porridge, Steam, Yogurt, Keep Warm, Pressure Cook, Multigrain, and Poultry.
And because the Duo is an Instant Pot, you know it brings all the quality and convenience that has made the Instant Pot name synonymous with multi-cookers.
Cook healthy, faster, and easier by combining the best-selling Instant Pot Duo™ Plus Multicooker with a Stainless Steel Inner Pot and Yogurt Maker Cups. Speed up your cooking time and enjoy the convenience of making your own yogurt at home.
Duo 9-in-1 Multicooker (6 QT/5.7 L)
• Replaces 9 cooking appliances and saves counter space
• Speeds up cooking time 2 – 6 times
• Easy and worry-free cooking with 16 built-in smart programs
• Save up to 70% energy compared to traditional cooking method
• Retains more vitamins and minerals compare to traditional cooking method
Yogurt Maker Cups
• Includes a rack with five – 6 ounce (170ml) yogurt cups with airtight, spill proof lids
• Yogurt maker rack can hold five – 9 ounce (260ml) feed bottles (not included) for sterilization
• Made from food grade polypropylene (PF-1002) plastic
• BPA free, dishwasher and freezer safe
• Genuine Instant Pot Multi-Use Programmable Pressure Cooker accessory
Specifications
| | |
| --- | --- |
| Size | 6 Quart |
| Smart Programs | Manual, Soup, Meat/Stew, Sauté, Rice, Porridge/Oatmeal, Steam, Slow Cook, Yogurt, Keep Warm, Sterilizer, Egg, Pressure Cook, Sous Vide, Cake, and Bean/Grain |
| Power | 1000W |
| Power Supply | 220V – 240V, 50Hz – 60Hz |
| Weight | 12.35 lbs / 5.6 kg |
| Dimensions (inches) | 13.39L × 12.21W × 12.48H |
| Dimensions (cm) | 33.5L x 31W x 33H |
| Warranty | 12 months |
| Package includes | Duo Plus Unit with Yogurt Maker Cups, Easy Seal Lid (w/ Clear Sealing Ring Affixed), Stainless Steel Inner Pot, Steam rack with Handles, 1 Extra Red Sealing Ring |
Safety
Instant Pot® has been carefully designed to eliminate many common errors from causing harm or spoiling food. It has passed the stringent UL & ULC certification giving you uncompromised safety and peace of mind. Instant Pot protects you with 10 proven safety mechanisms and patented technologies.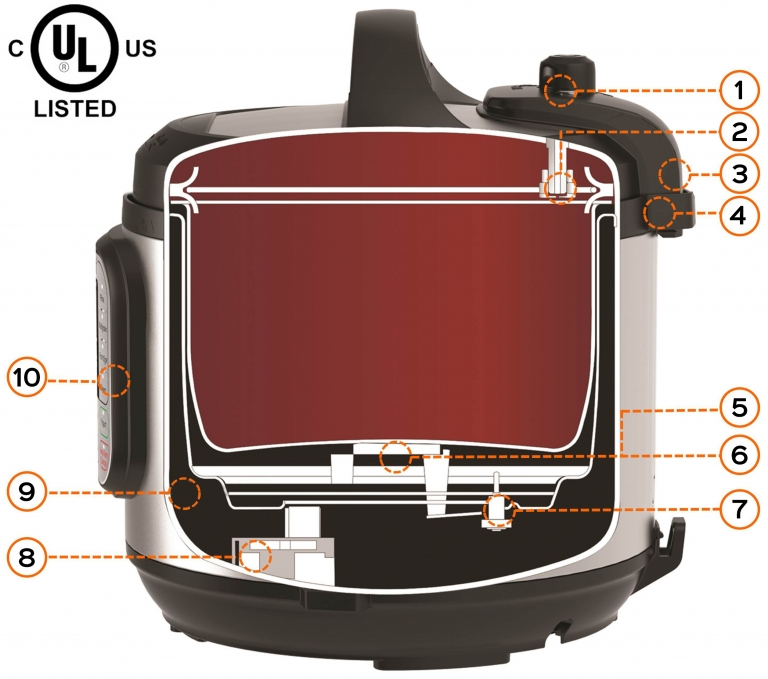 Steam Release – Releases excess pressure by venting steam through the steam release valve/handle.
Anti-Block Shield – A stainless steel cover which prevents food particles from entering the steam release pipe, reducing the risk of blockages.
Safety Lid Lock – When cooker is pressurized, the lid will automatically lock to prevent opening the cooker. Do not attempt to force the lid open while the cooker is pressurized.
Lid Position Detection – If the lid is not in a safe position for pressure cooking, the cooker will not allow cooking to begin.
Automatic Temperature Control – Regulates heating to ensure the inner pot remains within a safe temperature range, based on the program.
Overheat (Burn) Protection – Overheating may occur if:

After Sautéing, inner pot has not been deglazed— food is stuck to the bottom
The pressure cooker is being operated without sufficient cooking liquid
The inner pot is not making full contact with the heating element
The inner pot encounters a heat distribution issue, such as when starch accumulates on the bottom of the inner pot.

Automatic Pressure Control – Maintains working pressure levels. Suspends heating if pressure exceeds pressure level limits.
Electrical Fuse – Cuts off power if the electrical current exceeds safety limits.
Thermal Fuse – Cuts off power if the internal temperature exceeds safety limits.
Leaky Lid Detection – If there is steam leakage from the lid (such as, sealing ring not installed, or steam release handle being in "Venting" and not "Sealing" position) the cooker will not pressurize. Loss of steam may cause food to burn. The cooker monitors the pre-heating time and lowers heat output if working pressure is not reached within 40 minutes.
FAQ
The Instant Pot Duo Plus is a 9-in-1 electric pressure cooker, capable of replacing your traditional pressure cooker, slow cooker, steamer, sauté pan, rice cooker, yogurt maker, cake maker, sterilizer and food warmer.
The Duo Plus will begin 10 seconds after you set or adjust the cooking program. When it starts, the display indicates On to let you know the cooker has begun pre-heating.
The Initial Test Run helps you become familiar with how your Instant Pot works, ensures the cooker is operating at peak performance, and sterilizes the cooking chamber so you can start preparing your delicious dishes right away.
For pressure cooking, if you aren't following a trusted recipe, pay attention to minimum liquid requirements and maximum fill lines as indicated on the inner pot.
For non-pressure cooking, the minimum liquid requirements listed below do not apply.
Minimum
When pressure cooking, always add at least 1.5 – 2.5 cups (355 – 473 ml) of liquids so enough steam can be generated to cook under pressure. These liquids should be water-based, including stock, broth, juice, cooking sauces, as well as wine and beer. If a recipe specifies a certain amount, always follow the recipe.
Note: Oils and oil-based sauces do not have enough water content to account for the required liquid volume.
Maximum
When pressure cooking, do not fill the inner pot higher than the 2/3 line indicated on the inner pot. When cooking foods that expand (e.g., rice, beans, pasta) do not fill the inner pot higher than the 1/2 line indicated on the inner pot. Overfilling the inner pot may risk clogging the steam release and developing excess pressure. This may cause leakage, personal injuries, or damage to the cooker.
Not always. It's a good idea to only use the parts that came with your Instant Pot, or authorized replacement parts and accessories that are designated for your size and model of Instant Pot.
In particular…
• Using a lid from another model may result in improper sealing/locking, and is unsafe.
• Instant Pot silicone sealing rings can be used in any matching size of Instant Pot pressure cooking lid.
• Instant Pot inner pots can be used in any matching sized Instant Pot, except for the Duo Evo™ Plus, which features a new inner pot design.
If you need assistance choosing accessories or replacement parts, you can chat with our Customer Support through the Chat / Support box at the bottom-right of your screen.
The stainless steel inner pot is made primarily from 304 (18/8) stainless steel and is dishwasher safe.
The 3-ply bottom has an aluminum core for optimal heat dispersal, but no aluminum comes into contact with your food. With no chemical coating, the inner pot is compliant with FDA food safety standards.
The steam rack is also made from food grade 304 (18/8) stainless steel, so you can be sure that all of your food is cooked safely.
Yes! You can adjust the time, temperature and pressure level even after the Instant Pot has started cooking.
The Duo Plus beeps and displays On to indicate when a Smart Program has started. When the cooker builds up enough pressure the float valve rises, then the cooker beeps and counts down the cooking time.
Before opening the lid, make sure the float valve has dropped.
• Do not attempt to open the lid if the float valve is still up.
• Do not attempt to open the lid if it is locked and cannot be easily opened.
• Do not force the lid open at any time.
If the float valve has not dropped…
• Ensure the quick release button is pressed down into the Vent position, or
• Turn the steam release handle to the Venting position.
If no steam releases, use a long utensil to nudge the float valve down.
Note: When opening the lid, the inner pot may adhere to the lid. This is caused by vacuum due to cooling. To release the vacuum, move the stream release handle to the Venting position.
Ingredients that are high in sugar content may trigger the burn warning.
We recommend caution when cooking food such as applesauce, cranberries, pearl barley, oatmeal or other cereals, split peas, noodles, macaroni, rhubarb or spaghetti, as they tend to foam, froth or spatter and can cause clogging. When preparing these foods, do not fill the inner pot higher than the — 1/2 line as indicated on the inner pot and followed a trusted recipe.
Note: Regular cleaning of the lid and its parts (e.g., steam release handle, anti-block shield, steam release pipe and float valve) is important for proper function and to ensure the cooker's longevity.
To ensure the highest level of safety, we recommend only purchasing spare parts and accessories authorized by Instant Brands Inc.
Accessories and parts not branded Instant Pot® or recommended by Instant Pot® may cause the cooker to malfunction.
Videos
Only logged in customers who have purchased this product may leave a review.