Cinnamon Sugar Donuts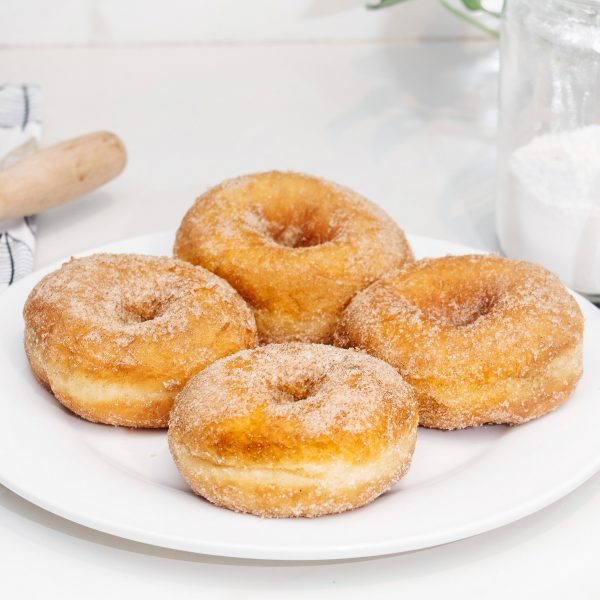 | | |
| --- | --- |
| | |
Whisk the milk and yeast together in a small bowl. Add 1 tsp of the flour and 1 tsp of the sugar. Whisk until combined. Let sit for 10-15 minutes until surface bubbles.

Place the remaining flour, remaining sugar, and salt in a bowl. Mix with a hand or stand mixer.

Add egg while mixing. Next, add melted butter and yeast mixture. Knead until dough is smooth and elastic.

With very lightly floured hands, scrape the dough into a lightly oiled bowl. Cover and set aside to rest for 1–1½ hours, or until the dough has doubled in size.

Line with baking paper the air fryer tray and an extra tray if needed.

Generously flour a work surface and gently tip the dough out onto it. Using a floured rolling pin, gently roll the dough out to a 1 cm (½ inch) thickness. Using a floured 8 cm (3¼ inch) round cookie cutter, cut out 10 rounds from the dough, making sure you cut them as close together as possible. Use a floured 3 cm (1¼ inch) round cookie cutter to cut out holes from the center of each larger circle. Carefully transfer the donuts and their holes to the prepared trays, spreading them out in a single layer. Cover with kitchen towels then allow to rest for 40 minutes at room temperature, or until the donuts have doubled in size.

Preheat air fryer to 180C. Set the time to 12 minutes.

Add the tray in the air fryer and turn the donuts on the other side halfway through cooking time.

Remove from the air fryer and allow to cool for 3 minutes.

Combine cinnamon-sugar ingredients in a deep bowl.

Brush the donuts with melted butter and toss in the bowl of cinnamon-sugar.