Website Exclusive

Duo Plus 9-in-1 Multi-Functional Smart Cooker with Silicone Egg Set and Mini Loaf Pans (6 QT/5.7 L)

In stock

You Saved: $5.00

The Duo™ Plus 9-In-1 multi-use electric pressure cooker has all of the great features that made the Duo the #1 best seller, plus more.

The new Duo Plus comes with the upgraded EasySeal™ lid, which automatically seals the pot for pressure cooking when you close the lid and has a quick steam release button for ease of use.

The 6-Quart Duo Plus boasts 16 one-touch Smart Programs: it is a pressure cooker, rice cooker, slow cooker, yogurt maker, steamer, sauté pan, food warmer, stock pot, cake maker, egg cooker, sterilizer, and sous vide. It's everything you need to get nutritious dinners on the table quicker. It's perfect for families of up to 5 people and makes weekly meal prep a breeze.

Cook healthy, faster, and easier by combining the best-selling Instant Pot Duo™ Plus Multicooker with our SIlicone Egg Set and Mini Loaf Pans. Speed up your cooking time and enjoy the convenience of preparing multiple dishes at the same time with the convenience of our Lifetime Accessories.
Duo 9-in-1 Multicooker (6 QT/5.7 L)
• Replaces 9 cooking appliances and saves counter space
• Speeds up cooking time 2 – 6 times
• Easy and worry-free cooking with 16 built-in smart programs
• Save up to 70% energy compared to traditional cooking method
• Retains more vitamins and minerals compare to traditional cooking method
Silicone Egg Set
• Includes egg rack and egg bites with lid
• Made from BPA-free silicone
• Heat resistant up to 232° C
• Egg rack holds up to 9 eggs
• Easy transfer from fridge or freezer to Instant Pot
• Dishwasher-safe
Mini Loaf Pans (2-pack)
• Includes 2 Loaf Pans
• Pot-in-pot cooking. Compatible with 6 QT Cookers
• Cook dinner and dessert at the same time
• Pan is made out of non-stick material – perfect for loaves and for quick & easy cleanup
• PTFE and PFOA Free
Specifications
| | |
| --- | --- |
| Size | 6 Quart |
| Smart Programs | Manual, Soup, Meat/Stew, Sauté, Rice, Porridge/Oatmeal, Steam, Slow Cook, Yogurt, Keep Warm, Sterilizer, Egg, Pressure Cook, Sous Vide, Cake, and Bean/Grain |
| Power | 1000W |
| Power Supply | 220V – 240V, 50Hz – 60Hz |
| Weight | 12.35 lbs / 5.6 kg |
| Dimensions (inches) | 13.39L × 12.21W × 12.48H |
| Dimensions (cm) | 33.5L x 31W x 33H |
| Warranty | 12 months |
| Package includes | Duo Plus Unit with Silicone Egg Set and Mini Loaf Pans, Easy Seal Lid (w/ Clear Sealing Ring Affixed), Stainless Steel Inner Pot, Steam rack with Handles, 1 Extra Red Sealing Ring |
Safety
Instant Pot® has been carefully designed to eliminate many common errors from causing harm or spoiling food. It has passed the stringent UL & ULC certification giving you uncompromised safety and peace of mind. Instant Pot protects you with 10 proven safety mechanisms and patented technologies.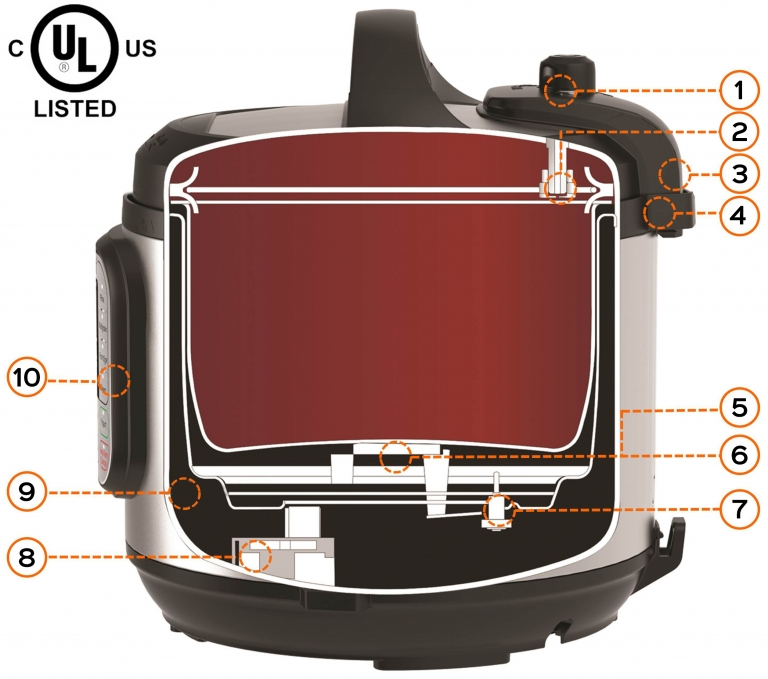 Steam Release – Releases excess pressure by venting steam through the steam release valve/handle.
Anti-Block Shield – A stainless steel cover which prevents food particles from entering the steam release pipe, reducing the risk of blockages.
Safety Lid Lock – When cooker is pressurized, the lid will automatically lock to prevent opening the cooker. Do not attempt to force the lid open while the cooker is pressurized.
Lid Position Detection – If the lid is not in a safe position for pressure cooking, the cooker will not allow cooking to begin.
Automatic Temperature Control – Regulates heating to ensure the inner pot remains within a safe temperature range, based on the program.
Overheat (Burn) Protection – Overheating may occur if:

After Sautéing, inner pot has not been deglazed— food is stuck to the bottom
The pressure cooker is being operated without sufficient cooking liquid
The inner pot is not making full contact with the heating element
The inner pot encounters a heat distribution issue, such as when starch accumulates on the bottom of the inner pot.

Automatic Pressure Control – Maintains working pressure levels. Suspends heating if pressure exceeds pressure level limits.
Electrical Fuse – Cuts off power if the electrical current exceeds safety limits.
Thermal Fuse – Cuts off power if the internal temperature exceeds safety limits.
Leaky Lid Detection – If there is steam leakage from the lid (such as, sealing ring not installed, or steam release handle being in "Venting" and not "Sealing" position) the cooker will not pressurize. Loss of steam may cause food to burn. The cooker monitors the pre-heating time and lowers heat output if working pressure is not reached within 40 minutes.
FAQ
Videos
Only logged in customers who have purchased this product may leave a review.